Harvest week
Harvest week
26 October 2016 (by cairncastleps)
Thank you to all who contributed to our bags of blessings.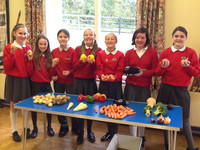 We were able to distribute over 60 bags of blessings to people in Ballygally and to relations, neighbours and friends of some of our pupils. P7 had a great response from the people they met round our village and really enjoyed chatting with the locals. We hope those who received a bag will feel special and know that they were being well thought of.
Thanks again to everyone who sent in fruit and vegetables.
Some photos can be seen in the Gallery.